Rodrigo "Comprido" Medeiros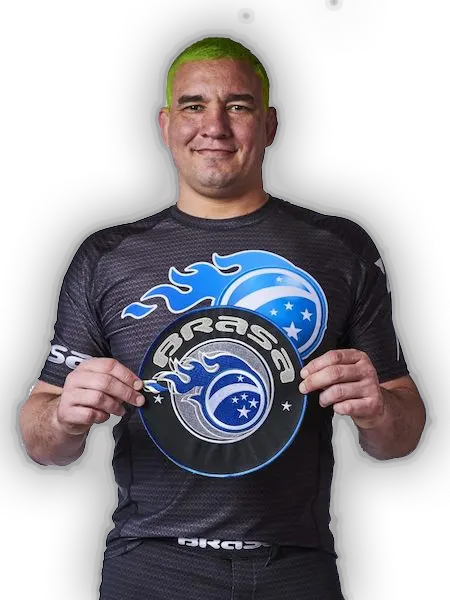 Rodrigo "Comprido" Medeiros was born on October 1st, 1977, in Rio de Janeiro, Brazil. Growing up in Rio during this period and in this place meant that Comprido (nickname, means 'long' or 'lanky' in Portuguese) grew up during the golden age of and in the capital of BJJ. Some of his neighbors and best friends would themselves grow up to be BJJ champions and legends. BJJ was growing exponentially during this time, and some of its greatest champions came from this area and era.
When he was about 9 years old, Comprido tried out BJJ for a couple of months at a gym on his block where his best friend Leonardo Vieira trained. It didn't take at the time as he didn't enjoy it very much, so he tried his hand at Tae Kwon Do and kickboxing and trained in these for several years. He even successfully competed twice in Tae Kwon Do and once as a kickboxer.
It wouldn't be until he was 16 when his cousin Mauricio talked him into to go to BJJ class with him so he might have a training partner, that Comprido got back on the mats. Within two months Comprido decided to quit everything else and focus on BJJ.
By the age of 17, as a blue belt, Comprido began to compete in BJJ tournaments. His first year competing in BJJ was, in his own words, "disastrous." He lost at all of the tournaments except for the last two, in which he placed first (the first at juvenile and the second at adult). At this time Comprido was training at Romero "Jacare" Cavalcanti's Master Academy in Rio with Leo Viera.
In 1996, Comprido won gold at the Worlds in his division as a blue belt (second in the Absolute). Later, when Comprido was a purple belt, Jacare moved to the United States and left the Master Academy in the hands of Fernando "Magrão" Gurgel, Comprido's primary coach.
As a purple belt, Comprido began to instruct at Master Academy.
A year later, 1998, as a brown belt, Comprido became a Worlds champion again. Shortly thereafter, in 1999, Comprido was awarded his black belt.
As a black belt he was given his own class to instruct at the Master Academy, and, given Jacare being in the U.S. and Magrão's busy work schedule, was eventually offered the opportunity to become head instructor at Master Academy.
At the Worlds in 1999, Comprido lost his second match in his division to Paulo Filho, a gifted and dominant fighter in that era, but went on to win the gold in the Absolute Division, beating both Ze Mario Sperry and "Roleta." His win made history in several ways: it was the first win at Absolute black belt by submission, the fastest recorded submission in Worlds' history at black belt, and by winning the Absolute in his first year as a black belt. In 2000, Comprido repeated as black belt Absolute champion, beating Nino Shembri, a match Comprido to this day considers his greatest given the skill of his opponent.
In 2006 Comprido had the opportunity to come to the U.S. and partner at an academy in Illinois. From this base, he began to train several UFC fighters including Mike Russo and Brock Lesnar. It was Brock Lesnar who convinced Comprido that he should open his own academy, and with Brock's help, Comprido opened the doors of CompridoBJJ Academy in Bloomingdale, Il., in 2011.
With all of the responsibilities that come with training at the academy, training fighters, and having little time left to himself to train effectively, Comprido retired from competing as an adult at the Worlds in 2009, though he continues to compete and dominate in the Master's divisions, most recently taking gold in his division at the 2012 Pan Am Master Championship and at the 2012 Worlds No-Gi tournament.
Under his leadership, Brasa team has won six consecutive IBJJF opens in Chicago and several of his American students have gone on to medal at the Pan Ams and Worlds Gi and No Gi tournaments. His favorite student is one he calls the "Sinister Minister." Comprido also keeps a hectic travel schedule, giving seminars to Brasa team students and academies around the world.