Rodrigo "Comprido" Medeiros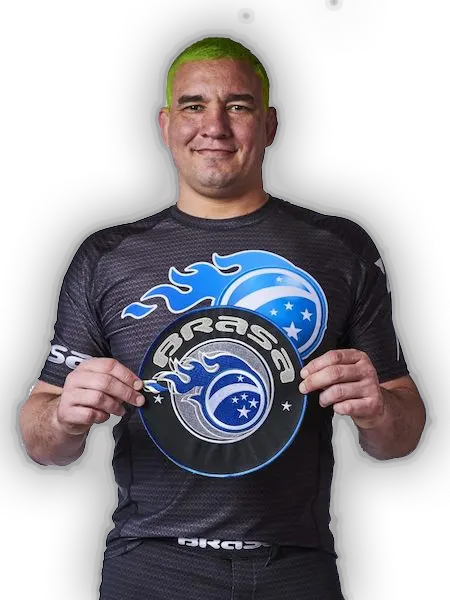 At the age of 9, Comprido gave Brazilian Jiu-Jitsu a shot for a brief period at a gym located on his block, where his closest pal Leonardo Vieira trained. However, he didn't find it particularly enjoyable at the time, prompting him to shift his focus to Tae Kwon Do and kickboxing instead. Comprido proceeded to train in these disciplines for a number of years and even participated in competitions twice as a Tae Kwon Do practitioner and once as a kickboxer, achieving success.
At the age of 16, Comprido's cousin Mauricio persuaded him to attend a BJJ class as his training partner. This marked Comprido's return to the mat, and within two months, he decided to focus solely on BJJ and quit all other disciplines. He began competing at the age of 17 as a blue belt, but his first year of competition was unsuccessful, except for his last two tournaments, where he secured the first position in the juvenile and adult categories. At this time, Comprido was training under Leo Viera at Romero "Jacare" Cavalcanti's Master Academy in Rio.
In 1996, as a blue belt, Comprido won the World Championship in his division and secured the second position in the Absolute category. His primary coach at this time was Fernando "Magrão" Gurgel, who took over the Master Academy when Jacare moved to the US. Comprido began instructing at the Master Academy as a purple belt.
In 1998, as a brown belt, Comprido won the World Championship once again. He was awarded his black belt in 1999, and as a black belt, he began teaching his own class at the Master Academy. He eventually became the head instructor at the academy due to Jacare's move to the US and Magrão's busy schedule.
At the 1999 Worlds, Comprido lost his second match in his division to Paulo Filho but went on to win the gold in the Absolute category by defeating Ze Mario Sperry and "Roleta". This win was significant in multiple ways, including being the first win at Absolute black belt by submission, the fastest recorded submission in Worlds' history at black belt, and winning the Absolute in his first year as a black belt. He repeated as black belt Absolute champion in 2000 by defeating Nino Shembri.
In 2006, Comprido moved to Illinois and partnered at an academy, where he began training UFC fighters such as Mike Russo and Brock Lesnar. Lesnar encouraged Comprido to open his academy, and with his help, Comprido established CompridoBJJ Academy in Bloomingdale, IL, in 2011.